Important Info
Referencia: 151.
Temática: Idiomas, Náutica y Aventura.
Idioma: Español.
Edades: 8 a 16 años.
Capacidad máxima: 50 plazas.
Ratio alumnos por monitor: 8 alumnos.
Acceso a minusválidos: Si.
Localización:Sancti Petri (Cádiz).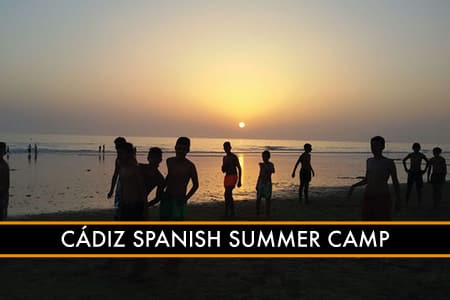 Description
We offer a weekly or fortnightly Summer Camp with total Spanish Language Immersion, with certified language teachers, all native speakers, as well as camp counsellors. We offer a truly international experience with children from many countries!! From 13 to 17 years old. In one of our selected venues in Spain, choose from our extensive range of speciality camps offering languages, sports, arts and leadership training.
Each camper can be sure to find the ideal camp for a meningful learning experience and an unbeatable Summer holiday. Remember, Cadiz Spanish Summer Camp, programmes are not run like schools! Of course, youngsters improve their skills and achieve personal growth but do it by having a great time and enjoying all the activities that is how the learning process becomes FUN! This is the basis of your guiding mission – Education through Recreation.
Why choose Cadiz Spanish Summer Camp?
Because of our professional staff made up of native speakers, our amazing countryside and views and our main objective which can help your son or daughter to improve their language skills in a safe, fun and sunny environment, but, overall, because of our values: EXCELLENCE, QUALITY, TRUST, SAFETY, PROFESSIONALISM AND PERSONALISED CARE.
As a Cadiz Spanish Summer Camp – Camper you:
Develop a greater sense of independence
Learn new life-long interests and hobbies
Improve skills in arts and sports
Interact with peers from the world over
Experience different cultures
Gather memorable souvenirs to last a lifetime
Study a second language
Experience the thrill and excitement of competition and challenge
Network the world through new friends
Understand the value of teamwork and eadership
Build greater self-confidence
FOOD & NUTRITION
Our supervisors and cooks are fully trained for assuring that every student enjoys a comprehensive and balanced diet during their stay in any one of our camps.
The balanced diet is the way of eating that provides a variety of food in quantities appropriate to our personal necessities and conditions.
Follow a balanced diet does not mean eating a lot of food, since its quantity is as important as its quality. Nutritional education and the acquisition of dietary habits form part of the nutritional culture that a person follows during an entire life, that is the reason why in our camps we try to enhance healthy nutritional habits encouraging the consumption of vegetables, fruit and diary products.
Avoiding the consumption of sweets or pastries and setting a regular schedule for the four meals of the day: breakfast, lunch, afternoon snack and dinner.
It is important that young people learn to eat exclusively with water, leaving the sodas for special occasions and above all learn to do sports and combine the good habits, that we try to fulfill during our camps, with daily activity, the essential trait of our camps.
We offer special diet for vegetarians, people with allergies or coeliacs.
ACTIVITIES
Languaje camps:
Students learn Spanish by practicing speaking together, using a range of specially chosen and interesting subjects. These become short but engagins projects using role play, developing ideas and discussing them with other campers using their improving language skills. Lessons are in well-equipped classroooms but in good weather can be moved outdoors. At the end of the camp our qualified teacher and the Language Director award certificates to each student but more importantly a separate detailed progress report is sent independently to each family. As a break, at all language camps the students enjoy a programme of excursions.
Hightly successful and fun – the Cádiz Spanish Summer Camp, style language programmes that campers really enjoy!
Learn languages in the Cádiz Spanish Summer Camp – it ́s "different", successful and fun all the time!
Our highly succesful language teaching programme is mainly based on the spoken word and sets very high standards in language learning, yet with achievable goals for the young learner. Using techniques based on participation, role playing and fun, students enjoy the experience and achieve really positive results.
The learning process – how it works.
Students are assessed and placed into gropups of about 8-10 campers according to the age and their abilities – but may be upgraded later as they progess. Lessons are 5 days per week from 10.00 am till 13.00 pm with short 15-minutes breaks.
Afternoon activities
Surfing
Kayaking
Beach Volleyball
Swimming
Climbing wall
Basketball
Football
Archery
Arts & Crafts
Aerobics
Cooking
Drama
Zip Line
Evening Activities
Pool Party
Talent night
Capture of the flag
Team Big Night
International Night
Furor
Disco Party
Astronomy
Bivouac
Excursions
Roman Ruins of Baelo Claudio and Bolonia Beach.
Cádiz.
NAUTICAL & BEACH: SURF & KAYAK
Do you like surfing? Or maybe you prefer kayaking? What about Beach Volleyball?
Welcome to the first ever Cádiz Spanish Summer Camp! Learn to master and improve skills as well as perfect techniques in this challenging but very rewarding sport. And what a sport it is!! There will be lots of fun in the sun, hard work and the inevitable thrills and spills. Just a 10 minute drive from camp takes campers to the Cádiz Spanish Summer Camp base, the beautiful, uncrowded Playa de la Barrosa with its extensive stretch of white sand washed by the turquoise water and rolling waves of the Atlantic Ocean.
This new programme will be in the hands of the qualified experts at the well-established local Surf School. Cíjara Camps consellors will always be there to take care of the young surfers as well. As ever with Cíjara Camps, the constant emphasis is on care and safety which is why this particular Surf School was chosen. We also do kayaking, beach volleyball… two days in a week campers will be taken to the beach base. We expect every camper to have a fun time whilst making good progress. The genle waves of this beahc make learning easy and progress is seen quickly.
ADVENTURE CAMP
Cádiz Spanish Summer Camp is an exciting and challenging programme that introduces campers who are enthusiastic about outdoor life to a thrilling range of water sports and beach activities.
The adventure activities also take campers into the forest and trails that surround the camp as well as permit the use of the excellent on-site activity facilities available in our campus.
Away from the beach campers enjoy the mountain biking and hiking trails through a shady Eucalyptus forest close to the camp. Other cool activities include climbing, zip lineand archery to round out a true Andalucian Adventure.
ou can ́t forget about the bivouac, it is one of our favourite activities! Sleeping under a starry sky is a truly unique experience…
ENVIRONMENTAL EDUCACION
Tomorrow ́s leaders need to be equipped for tomorrow's challenges, and we must adequately prepare our children for the future they will inherit. That requires a commitment to providing children with environmental education that helps them become the educated thought leaders of tomorrow.
Raising an environmentally literate generation of problem solvers will help ensure that tomorrow's decision-makers are prepared for the challenges they will likely face. Studies have shown environmental education engages students in learning, raises test scores, and encourages youth to pursue career in environmental and natural resources. Raising an environmentally literate generation of problem solvers will help ensure that tomorrow's decision-makers are prepared for the challenges they will likely face. Studies have shown environmental education engages students in learning, raises test scores, and encourages youth to pursue career in environmental and natural resources. The future of the environment, natural resources, and our quality of life begins with the education of today's youth.
PHOTOS ACTIVITIES
Facilities
Our new camp near the beautiful beaches of the sun drenched Costa de la Luz in Andalucía is well served by three international airports. Our preference is for Jerez (30 minutes) or Seville (90 minutes) with Malaga (2 hrs and 30 minutes) an alternative which must be confirmed with the head office.
Andalucían coast,Cadiz Spanish Summer Camps is launching its first ever Beach Camp, the challenging Andalucían Adventure Camp and both Spanish and English Language Camps. A short ten minute drive through orange groves takes campers from the accommodation to the white sands and clear blue Atlantic waters of the hoghly rated beach games, swimming and just chilling out in the sun. Away from the coast our excursion programme takes campers through the dramatic scenery of colourful Andalucía to visit its historical towns and cities of culture indluding the picturesque, ancient port of Cadiz.
The acomodation is at the impressive Urban ParK  of Puerto Santa María, an attractive and superbly equipped complex build in traditional Andalucían style. Campers stay in 4 bedded rooms perfectly equipped with sheets. Boys stay in their own building.
Our group will enjoy freshly prepared meals in one of the two spacious dining rooms.
– Room for 4 people.
– Professional kitchen.
– Olympic-size swimming pool.
– Two climbing walls.
– 200 meter zip line.
– Basketball courts..
– Two football training pitches (hard surface).
– Conventional football pitches about 15 minutes away.
– Modern classrooms..
– Media centres.
– A well equiped 200 seat-seat theatre with outdoor stages
– Large landscape areas.
Location
Urban ParK – Puerto Santa María
Pto. Santa María. Cádiz.
PHOTOS Facilities
Dates & Price
| | | |
| --- | --- | --- |
| CAMP SESSION | DATES | PRICE |
| 1 | 30 Junio al 13 Julio | 1.295€ |
| 2 | 30 Junio al 6 Julio | 695€ |
| 3 | 7 al 13 Julio | 695€ |
All-inclusive
Full Board & Accommodation in our facilities.
15 hours per week of Spanish, English or French Lessons.
All learning materials.
24 hour supervision by camp Monitors and/or qualified teaching assistants at all times.
Laundry service (one per week).
Sports and Activities.
Cultural and Recreational Activities, Trips and Workshops.
Final Report from Camp Monitors.
Language Teachers on each child ́s progress.
Accident and liability insurance.
Optional supplement not included: airport transfer and healthy insurance.
Payment info:
First payment: 20%
Second payment (at least 15 days prior to the starting dates of the camp): 80%.
CANCELATION POLICY
In case that a customer decides to cancel the program booked, they must notify it to Barcelona Spanish Summer Camp in writing. The customer will have the right to the refund of the amounts paid to Barcelona Spanish Summer Camp. However, the customer must pay and, if necessary, Barcelona Spanish Summer Camp might withhold the amount corresponding to the damages that might have occured to SBarcelona Spanish Summer Camp, including the expenses of any kind incurred by SpainSummerCamps to date, including but not limited to: payment to thid parties involved in the program (schools, dormitories, insurances companies, phone calls),as well as any other expense of infrastructure and/or logistics, among others. In order to inform the customer about the approximate amount of the fees that will be carried out and, apart from further resolution, these fees for withdrawal will amount to:
80% of the total cost of the program, if the cancellation occurs 60 days prior to the starting date of the program.
60% of the total cost of the program, if the cancellation occurs 45 days prior to the starting date of the program.
40% of the total cost of the program, if the cancellation occurs 30 days prior to the starting date of the program.
0% of the total cost of the program, if the cancellation occurs 15 days prior to the starting date of the program.