CAMPAMENTO CANCELADO POR LA CRISIS SANITARIA.
Important Info
Camp ID: 103.
Themed: Spanish + Sport.
Language: Spanish.
Age: 11 – 17 years.

JUNIOR 11 – 13 years.
SENIOR 15 – 17 years.

Maximun Capacity: 170 students.
Ratio students per instructor: 10 students.
Disabled access: no.
Experience: desde 1989.
Location: Málaga.
Description
Learning Spanish in Málaga living with students from Spain and other countries is possible thanks to Málaga Spanish Summer Camp, a camp where your child will learn Spanish, live with other students, enjoy amazing experiences, make international friends, assimilate new customs and mature as a person.
GOALS

Learn about different traditions and cultures, with the supervision of our team of professionals.
Learn and practice a foreign language in a healthy, friendly and multicultural environment.
Gain abilities to work individually and in teams, while having fun and enjoying the summer.
Promote the social relationships and meet new friends from all over the world.
Stay active and healthy during the summer, taking advantage of a great variety of sports and activities.
REASONS TO TRUST US
60% of Spanish students.The international students spend the 24 hours of the day with Spanish students in a multicultural context, living together in a shared dormitory.
Spanish classes.The students will learn Spanish in an international environment with classes offered by highly qualified teachers.
Our own methodology. Committed staff: our staff encourage the students to build friendships whilst providing an active supervision.
Supervision 24 hours.A counsellor will be allocated for each group of 8-12 students in every camp. The counsellors-tutors will be responsible of their group 24/7.
Transfer service from the airport.We offer transfer service (round trip) from the airport of Salamanca till the camp dormitory..
Why a Summer Camp Málaga?
The Unamuno School campus is located in one of the most exclusive residential areas of Málaga and is just a short walk from the beach. Its location is ideal for facilitating a large number of excursions and visits both to Málaga and places of interest in the region.
FOOD & NUTRITION
Our supervisors and cooks are fully trained for assuring that every student enjoys a comprehensive and balanced diet during their stay in any one of our camps.
The balanced diet is the way of eating that provides a variety of food in quantities appropriate to our personal necessities and conditions.
Follow a balanced diet does not mean eating a lot of food, since its quantity is as important as its quality. Nutritional education and the acquisition of dietary habits form part of the nutritional culture that a person follows during an entire life, that is the reason why in our camps we try to enhance healthy nutritional habits encouraging the consumption of vegetables, fruit and diary products.
Avoiding the consumption of sweets or pastries and setting a regular schedule for the four meals of the day: breakfast, lunch, afternoon snack and dinner.
It is important that young people learn to eat exclusively with water, leaving the sodas for special occasions and above all learn to do sports and combine the good habits, that we try to fulfill during our camps, with daily activity, the essential trait of our camps.
We offer special diet for vegetarians, people with allergies or coeliacs.

ACTIVITIES
A DAY AT THE CAMP
| | |
| --- | --- |
| HORA | TAREA |
| 08:15 – 08:30 | Levantarse y aseo |
| 08:30 – 09:15 | Desayuno |
| 09:15 – 09:30 | Reunión de cada grupo con su monitor |
| 09:30 – 10:15 | 1ª clase de inglés o español para extranjeros |
| 10:15 – 11:00 | 2ª clase de inglés o español para extranjeros |
| 11:00 – 11:30 | Descanso. |
| 11:30 – 12:15 | 3ª clase de inglés o español para extranjeros. |
| 12:15 – 13:00 | 4ª clase de inglés o español para extranjeros |
| 13:00 – 14:00 | Piscina o playa y actividades alternativas |
| 14:00 – 15:15 | Comida. |
| 15:15 – 16:00 | Descanso, juegos de mesa o torneos |
| 16:00 – 18:00 | Talleres o playa/piscina |
| 18:00 – 20:00 | Deportes, competiciones, olimpiadas |
| 20:00 – 21:00 | Duchas y aseos |
| 21:00 – 21:45 | Cena |
| 21:45 – 23:00 | Fiestas, noche de talentos, veladas, etc. |
| 22:30 | "A la cama" los pequeños |
| 23:30 | "A la cama" los mayores |
The organization of summer activities for our camp children and teenagers can be divided into three categories: recreational, workshops, excursions, as well as summer camp sports and summer language courses.
COURSES:

Summer Spanish and English courses in Málaga will take place:
During the mornings, from Monday to Friday.
With 4 daily lessons, each lasting 45 minutes.
With a maximum of 14 students per class.
Once the program ends and the course is completed, students will receive a certificate along with a progress report.
Summer Language Courses:
We always keep in mind the time of year and the ages of our students… we're a summer camp and the goal is to have fun! The summer language course content and materials as well as the teaching methodology are conceived and designed aiming for the perfect balance between fun and rigor so that our campers make the most out of their English or Spanish course.
Teaching Staff
The success of our campers not only upon the motivation of the students, but also in great part upon the teaching staff who share their knowledge. For this very reason we carefully select our team of language teachers. All of them are bilingual, are licensed in the teaching of English or Spanish, have the CAP (Certificate of Pedagogical Aptitude) and 90% are native speakers.
Methodology
When it comes to designing the courses, we never forget that we're a summer program. For this reason, the language courses are conceived and designed to motivate students in a fun summer setting, but also sufficiently serious and professional as to ensure that they make the most of their stay. The teaching system that we use is centered on a communicative approach and includes diverse didactic methos: grammar, speaking, listening, vocabulary pronunciation, oral and written competence.
Didactic Material
The didactic material is designed for each age group and subdivided into varying levels of linguistic competence. The kit, which will be issued to students on the first day of class, is complemented by other tools to further facilitate understanding.
Language Levels
The level of each student will be determined by a Spanish or English test on the first day. Students will be divided into groups depending both on their age and on the test results. The student will be placed in the appropriate level among the 7 levels, ranging from beginner to advanced, that we offer..
Report Card
When the course ends, the professor will give the student a report card noting his / her improvements.
SPORTS
The day-to-day organization in Málaga is designed so that students can take part in as many sports as possible, as well as participate in a diverse selection of workshops and recreational Spanish summer camps activities, always geared towards each age group
Some of the regularly planned sports are…
Basketball
Volleyball
Football
Handball
Baseball
Waterpolo
Aerobics
Olympics
Capoeira
Swimming
Archery
Badminton
Bowling
Darts
Hockey
Frisbee
Indiaka
Etc.
Summer Camp Málaga Optional Sports
One of the best times to begin, improve and develop atheletic skills is during the summer! For that very reason, in addition to the camp's already scheduled activities we offer a selection of «optional» summer sports in which students can take part at an additional cost.
Students can choose 1 optional sport per two-week time camp period.
WHORKSHOPS
Examples of some of the workshops we offer in our Spanish summer camps …
Outdoors Workshop

With this workshop, students will explore and learn about various aspects related to the natural environment, trekking and hiking on ecological trails, knot-making, camping, etc. At the same time, one of the principal goals is to instill in our students a lifelong philosophy of respect and appreciation twoards the environment that surrounds us.
Journalism Workshops

The journalism workshop provides an opportunity for students to have fun and take part in the creation of a publication that encompasses camp news, opinions, etc. Students will work on their critical thinking and writing skills, express their creativity and form part of a productive team in the publication of a biweekly newspaper.
Music & Percussion Workshop
With this workshop, students learn how to use the bongos, the flamenco cajón (a special box for creating flamenco rhythms), the guitar, the maracas and other instruments.
Theater Workshop
This workshop gives campers the opportunity to create their own plays and perform them, as well as recreate famous works recommended by the counselor. Students will be able to participate in every aspect of the theater, from selecting the play and acting to doing make-up, creating costumes and designing the set.
Juggling & Circus Workshop
In this workshop, our students learn to master juggling, spinning plates, devil sticks, diabolos, etc.
Lifesaving Workshop
Students will learn various lifesaving techniques, including life-guarding and CPR.
Arts & Crafts Workshops
Participants will create handicrafts using a variety of materials, such as clay, paper, yarn, beads, threads, toothpicks, recycled materials (cans, bottle tops) and more.
Cooking Workshop
This workshop encourages students to both discover the culinary arts as well as learn more about the multicultural backgrounds of our campers through gastronomy! Participants will learn to make truffles, chocolate cake, etc., and of course typical Spanish dishes like the tortilla de patatas (potato omelette)!
Flamenco & Sevillanas Workshop
For students who don't know how to dance flamenco, this is the ideal opportunity to start!
Ballroom Dancing Workshop
This workshop is intended to encourage students to develop their personal sense of rhythm and movement through music and traditional ballroom dance steps. Amongst other dances, students will have fun learning salsa, twist, tango…
EXCURSIONS
Students will enjoy at least one full-day and two partial-day Málaga excursions per two-week period.
We organize these excursions with the goal of introducing our students – both Spanish and international – to the wide range of historical and cultural attractions that the region and the city of Málaga itself offer.
Partial-day Málaga Camp Excursions:
Mijas.
City tour por Marbella.
Aqualand (Torremolinos).
Full-day Málaga Camp Excursions:
Sevilla
Granada
Tarifa
Ronda
Nerja
PHOTOS ACTIVITIES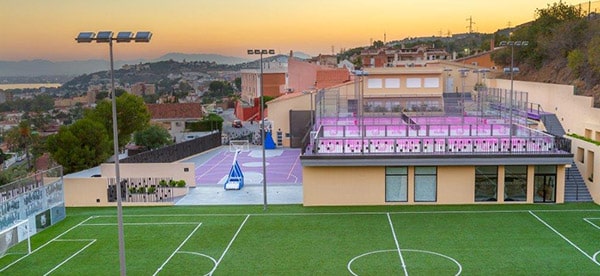 Facilities
The campus of the private school Unamuno is situated in one of the most exclusive residential areas of Málaga.
The school offers some of the best views of Málaga and the coast in addition to excellent academic, sport and recreational installations. The main school building has three distinct areas: residential hall, dining area and classrooms. The classrooms are large, receive plenty of natural light and are perfectly equipped. The sporting installations include a gym, padel tennis courts, basketball courts, a multipurpose playground, an artificial turf soccer field, pool, terrace and outdoor playset. The school also has many spacious common areas where parties and meetings are held.
The accommodation consists of comfortable rooms, single, double or triple to share. Every room provides a private bathroom and air conditioning.
Installations:
Common areas.
Living room with TV.
Study room.
Gym.
Dining room.
Computer room.
Soccer field.
Paddle courts.
Basket courts
Summer Camp Málaga Accommodation
Comfortable accommodation is an essential part of your study trip and we understand how important it is that you choose the option that best suits your needs. In this school you can will be accommodated in double and triple rooms ensuite.
Students older than 15 will also have the chance to reside in a home stay. All of the buildings in the school have Wi-Fi internet connectivity.
Location
Private School Unamuno
Urb. Miraflores del Palo,
Calle de la Escritora Fuster Gallardo 10
29018 Málaga.
SURROUNDINGS
The location of the accommodation, not far from the beach, is ideal to realize a great number of excursions and visits to the city and to other interesting areas of the region.
In fact Málaga is located on the shores of the Mediterranean sea and borders with other famous andalusian cities, like Marbella, Córdoba or Seville.
Within the city, we can discover, among other things, the ancient Roman amphitheater, the Muslim fortress, which has existed since the VI century and the Mosque of al-Andalus.
PHOTOS Facilities
Dates & Price
| | | |
| --- | --- | --- |
| CAMP SESSION | DATES | PRICE |
| 1 | 16 al 29 Junio | 1.490€ |
| 2 | 30 Junio al 13 Julio | 1.490€ |
| 3 | 14 al 27 Julio | 1.490€ |
| 4 | 28 Julio al 10 Agosto | 1.490€ |
All-inclusive
Language camps two weeks.
Accommodation at the camp.
20 weekly Spanish lessons, from Monday to Friday.
Didactic materials.
Counselor and tutor assistance.
Assistance trainers and mentors.
Laundry service once per two-week period.
Sports.
4 meals daily.
Cultural, recreational, workshop and sports activites.
3 excursions per two-week period (minimum).
Qualified instructors.
Camp coordinator.
Report card from counselor and language professor
Liability Insurance and Accident .
Internet access.
Round trip airport pick-up
IVA.
Does not include
Enrollment from camp 55€.
Uniform (5 t-shirts, 1 sweatshirt,2 shorts and 1 cap) 100€.
OPTIONAL SERVICES
Extra Activities:
Football course (16 lessons) 250€
Paddle course (12 lessons) 200€.
Yoga course (12 lessons) 200€.
Transfer
Transfer from the airport , train or bus made 85€(person/way)
Payment info:
First payment: 20%
Second payment (at least 15 days prior to the starting dates of the camp): 80%.
CANCELATION POLICY
In case that a customer decides to cancel the program booked, they must notify it to Barcelona Spanish Summer Camp in writing. The customer will have the right to the refund of the amounts paid to Barcelona Spanish Summer Camp. However, the customer must pay and, if necessary, Barcelona Spanish Summer Camp might withhold the amount corresponding to the damages that might have occured to SBarcelona Spanish Summer Camp, including the expenses of any kind incurred by SpainSummerCamps to date, including but not limited to: payment to thid parties involved in the program (schools, dormitories, insurances companies, phone calls),as well as any other expense of infrastructure and/or logistics, among others. In order to inform the customer about the approximate amount of the fees that will be carried out and, apart from further resolution, these fees for withdrawal will amount to:
80% of the total cost of the program, if the cancellation occurs 60 days prior to the starting date of the program.
60% of the total cost of the program, if the cancellation occurs 45 days prior to the starting date of the program.

40% of the total cost of the program, if the cancellation occurs 30 days prior to the starting date of the program.
0% of the total cost of the program, if the cancellation occurs 15 days prior to the starting date of the program.